Israel's Blue White Robotics (BWR) has announced US$37M in Series B funding, taking the company to US$50M of investment since its inception in 2017 and only 7 months after the official release of its autonomous tractor kit. BWR says that by retrofitting existing infrastructure with intelligent autonomous algorithms, its robot tractors improve farm productivity, precision, and worker safety.
The vehicle agnostic robot kit converts any existing tractor to a fully autonomous machine and integrates with BWR's Robots-as-a-Service (RaaS) platform. The platform collects and distributes data that creates new services to increase yields and reduce inputs for the growing autonomous operation. Management software allows one farmer to easily operate and manage a fleet of autonomous vehicles with control of any type of tractor, robot, or drone.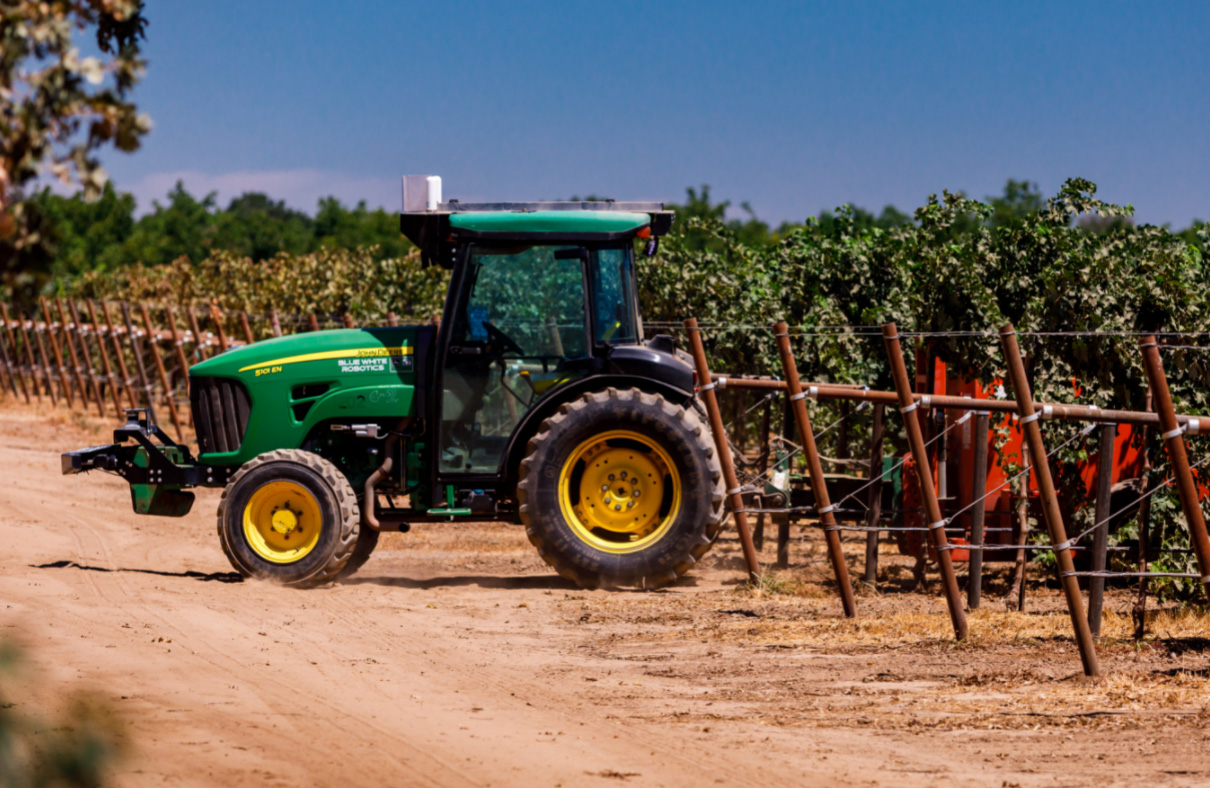 The Series B investment round was led by New York-based global private equity and venture capital firm Insight Partners. Entrée Capital co-led this Series B after having seeded Blue White Robotics and participated in its Series A round. They are joined by Clal Insurance, Jesselson Family Office, Peregrine VC, and Regah Ventures who also made significant contributions.
With the trust of its market-leading clients and partners, BWR says it will use the new funding to increase the rapid adoption of its technologies, drive new US sales, and attract key talent for its all-star international team.
"With this new round of investment by some truly world-changing leaders, we have the power to continue our vision for a safer, smarter, and productive autonomous farm for the 21st-century," explains Ben Alfi, co-founder and CEO of Blue White Robotics. "Our amazing team is excited by this renewed commitment to solve the many issues facing our modern farmer and the food system as a whole."
"Farming is an industry that has seen little progress since the advent of the tractor, and it's time for farmers to enjoy the same advancements in technology as others. Blue White Robotics' value proposition is unparalleled in agriculture technology, and they truly stand by the need for Autonomy, Now," said Daniel Aronovitz, Vice President at Insight Partners. "The company's ease of adoption will allow the product to quickly scale within the industry and enter new markets. We're excited to partner with Blue White Robotics as they grow."
"At Entrée we have a tagline, 'Partnering with the exceptional to build the impossible'," explains Avi Eyal, Managing Partner of Entrée Capital. "The exceptional competence of the Blue White Robotics team with their Robot as a Service (RaaS) has made the disruption of the agricultural industry now possible. We've backed Blue White Robotics from the start and are proud to continue backing them now."