Today saw Danish farm robotics company AgroIntelli win an Agritechnica Innovation Award with RoboVeg Ltd AND announce the launch of its new long-range (LR) ROBOTTI autonomous implement carrier.
The ROBOTTI LR is a new single engine version of the 150D robot with space for a larger 300 litre capacity diesel engine, this allows the carrier to operate for up to 60 hours non-stop before refuelling. The new ROBOTTI LR also has a greater lift capacity of 1250kg compared with the 150D's lift capacity of 750kg. The company says that with its two smaller engines the ROBOTTI 150D remains better equipped for more power intensive operations.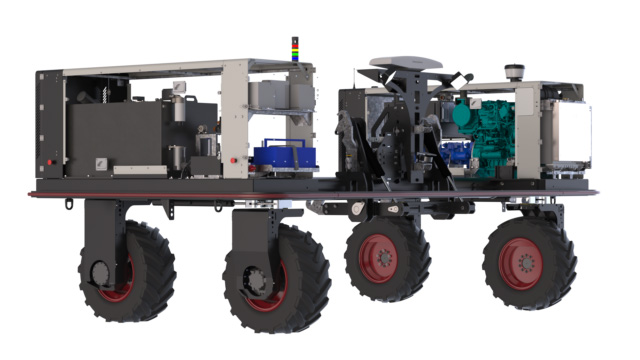 Like its predecessor the ROBOTTI LR has a three-point hitch and can be fitted with standard farm implements to perform different field tasks throughout the season. Connected via a SIM card to a GSM network the machine is autonomously controlled by computer and can make a zero turn (meaning it spins around a stationary point).
AgroIntelli's Chief Product Officer – Hans Christian Carstensen says that the new ROBOTTI LR has been developed using many hours of feedback gathered from customers operating the 150D machine across ten European countries. "We have seen that farmers are requiring larger lift capacity, longer range between refuelling, higher on-wheel torque and higher hydraulics capacity. All these inputs have been the base for the development of ROBOTTI LR and I am thrilled to see the result" he said.
"ROBOTTI LR brings new light on what our robot already can do." added Chief Commercial Officer, Jakob Møhl Bebe. "With its improved capacity and new features, I expect LR to be our most sold robot in 2022"
---
Silver at the Agritechnica Innovation Awards 2022
More good news for AgroIntelli today saw RoboVeg Robotti – a joint development between AgroIntelli and RoboVeg Ltd – take a silver award at the Agritechnica Innovation Awards 2022. RoboVeg Robotti is an autonomous robot for selective broccoli harvesting. One gold and sixteen silver awards were awarded from 164 accepted entries.
Carried by the ROBOTTI 150D, the RoboVeg is equipped with high-resolution 2D cameras and 3D sensors. Two robot arms that can be swivelled around six axes undertake autonomous broccoli harvesting. A robot arm requires approximately three seconds from selecting the broccoli on the field to putting it down. Its harvesting performance is around 2,400 units per hour, compared to around 300-360 units per hour by manual (human) worker.