Queensland, Australia is home to SwarmFarm Robotics, an agritech firm which this week announced it has raised US$8.3 million (A$12 million) in a Series A funding round led by Canadian VC – Emmertech. Founded in 2015, SwarmFarm Robotics is pioneering the development and use of intelligent robotics in Australian agriculture through Integrated Autonomy.
What is Integrated Autonomy?
Integrated Autonomy is a term used to describe a system or technology that combines autonomous capabilities with human decision-making and control. It refers to the integration of autonomous systems, such as robots or vehicles, with human operators or decision-makers in a way that allows for seamless collaboration and interaction.
Autonomous systems can be used to increase efficiency and productivity while still allowing human operators to maintain control and oversight. Overall, the goal of integrated autonomy is to create a more flexible and responsive system that combines the strengths of both autonomous systems and human decision-making.
The team at SwarmFarm defines Integrated Autonomy as a new approach to autonomy on-farm that unlocks the full potential of driverless technology by providing specialty robotics solutions with an open platform to develop on.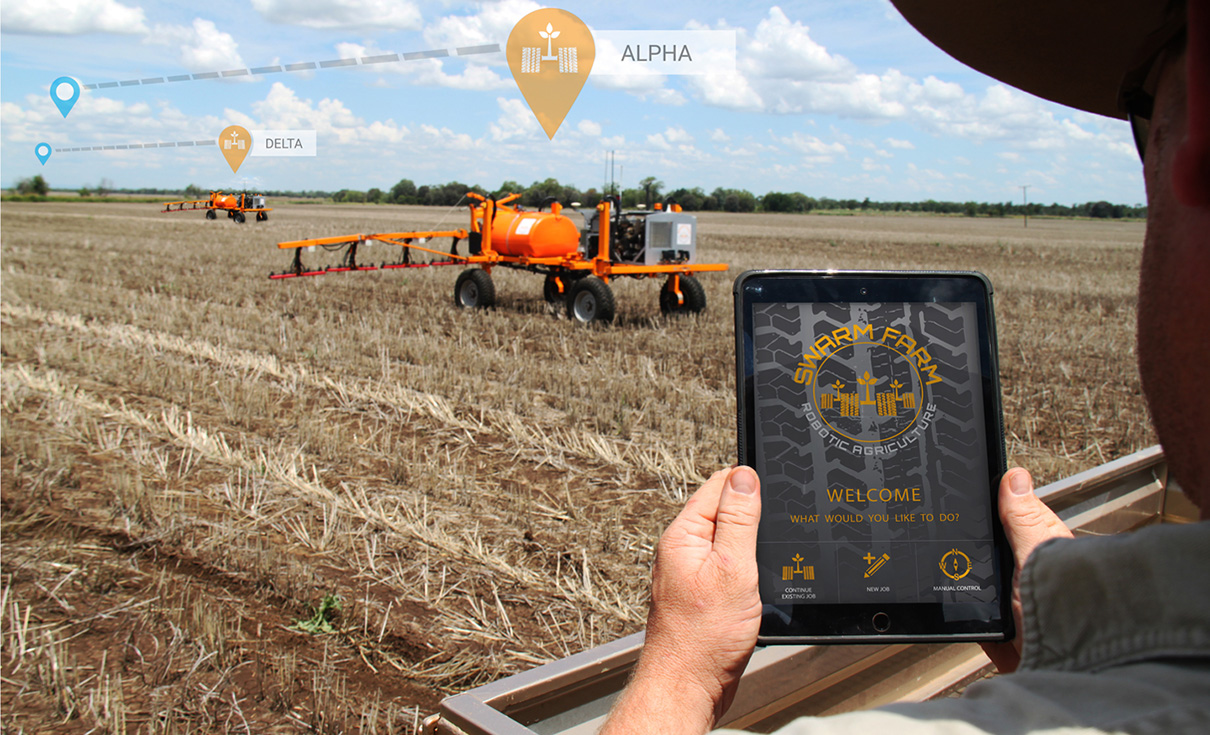 SwarmBot & SwarmConnect
SwarmFarm Robotics has developed its versatile SwarmBot platform together with a breakthrough operating system network, SwarmConnect, that enables developers to create an array of innovative applications for users of the autonomous platform.
The SwarmBot platform has been described as being like the mechano set for agriculture, with machine specifications adapted to the application, from broadacre and irrigated row crops to orchards, vineyards and turf. Machines are built for purpose and designed for their application on 2m, 3m or 4m wheel centres and a range of heights for different crops. They are fitted with mowers and sprayers from over 10 difference suppliers and many more in development
In 2022 SwarmFarm announced that SwarmBots had successfully been deployed to farmers who covered over 1.3 million commercial acres, operated for 64,000 hours, and reduced pesticide inputs by an estimated 780 tons.
SwarmFarm CEO Andrew Bate
"There is enormous demand for autonomy in agriculture, but today, most solutions unlock minimal potential," says SwarmFarm CEO Andrew Bate. "The current equipment providers believe that farmers just want to be plucked from the cab or replaced by robotic arms. We believe that farmers want more. They want a technology ecosystem built to address the issues in their locality, a farm-centric system that leaves the lowest possible footprint on their fields, helping them do more with less. They want Integrated Autonomy, so that's what we're building."
"While many companies are making driverless tractors and developing niche robotics solutions in agriculture today, we believe that there is a third category of autonomy that combines the robot and the application within a development framework that will allow farmers to customise their equipment for their needs and allow developers to bring their innovations to life much more rapidly," continued Bate. "It's the best of both worlds. For the farmer, we provide customised autonomy in a box. For the developer, we provide a streamlined path to the grower with a tight feedback loop."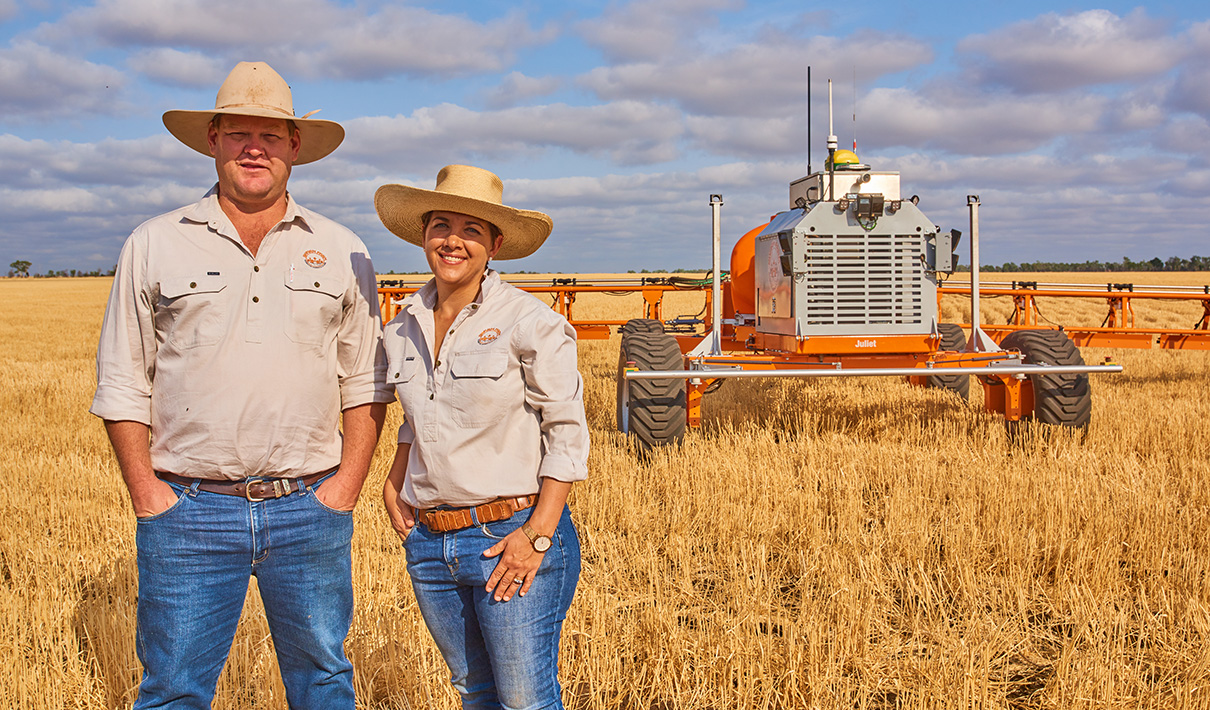 A new breed of farmer-technologists
Born on the Bate's family farm in rural Queensland, SwarmFarm exists to solve a complex problem set many farmers are facing around the world today: how to grow better crops and the optimal amount of food on their land without putting down excessive amounts of chemicals or acquiring larger and larger equipment.
"We hit a point where we just said enough is enough," says Bate. "We saw our input costs increasing, our equipment costs rising as we bought larger equipment, our dependence on pesticides rising, and our yields declining despite it all. There was a day when we sat down and realised that this wasn't an equation that needed incremental change; we needed an entirely new farming system – and SwarmFarm was the solution."
The SwarmFarm team saw a future where developers could create specialised tools that could be attached to swarms of small, nimble, autonomous robot platforms that create new farming practices through facilitating collaboration between farmers and technologists – laying the groundwork for the SwarmConnect product.
"We envision a future where the most promising minds in technology are encouraged to turn toward solving the challenges faced by modern agriculture," Bate continues. "We also believe in a future where there is no longer such a severe distinction between farmers and technologists, but rather a new breed of farmer-technologists. This funding helps us to move toward that future by meeting more of the global demand for our product and facilitating the growth of our SwarmConnect network of developers."
Today, SwarmFarm serves customers across Australia and works with some of the most innovative farm equipment developers, including WEED-IT, Bilberry, Weedseeker, Hayes Spraying, Rasmussen Brothers Engineering, Goldacres, and Croplands.
Series A funding round led by Emmertech
The company's latest Series A funding round was led by Emmertech, an AgTech fund from Conexus Venture Capital based in Canada. The funding also sees new investment from Tribe Global Ventures and Access Capital. Also joining the round are SwarmFarm's existing investors, including Tenacious Ventures, and GrainInnovate, the Grains Research and Development Corporation (GRDC) venture capital fund managed by Artesian.
"We are thrilled to be joining Andrew, Jocie, and the whole SwarmFarm team as they pioneer the future of autonomous agriculture," said Sean O'Connor, Managing Director of Emmertech. "The key trait that drove our eagerness to lead this round was the farmer-centric approach this team is built around and the truly exceptional results their robots have achieved. We met with several farmers who were putting upwards of 3,000 hours a year on their SwarmBot, often leaving them out in the fields for over 24 hours at a time. We believe there's a future where SwarmBots can be found on farms across North America and worldwide."