Weeds are one of the major challenges to successful crop production – studies by leading research organisation Rothamsted have shown that black-grass costs UK farmers £400m per year from 800,000 tonnes of lost yield, and as weed resistance to herbicides grows, that figure could triple in the future.
Access to herbicides is also an issue, with many EU nations preparing to ban or restrict the use of glyphosate. The high cost and long lead times involved in developing new active ingredients, plus the risk of these actives themselves facing legislation down the line, means that few alternatives are on the horizon.
Thus, there is growing interest in non-chemical techniques which range from increasing crop competition to burning or electrically killing weeds. Mechanical weed control – effectively a high output version of garden hoeing – has long been used on organic farms and for crops where suitable chemistry is limited, such as vegetables and sugar beet.
The choice of weeding tools is governed by the crop type and growth stage of both the crop and weeds at the time the implement is being used. Spring tine cultivators have been used for weeding for many years, and are best for cereals with their strong roots, rather than for more delicate peas or beans. Inter-row cultivators with solid tines or shares can be used for a variety of crops, and manufacturers are now developing adjustable frames to work at different row widths and expand the range of use. Rotary weeders can work aggressively to shallow depth, taking out annual weeds in-row as well as between the rows.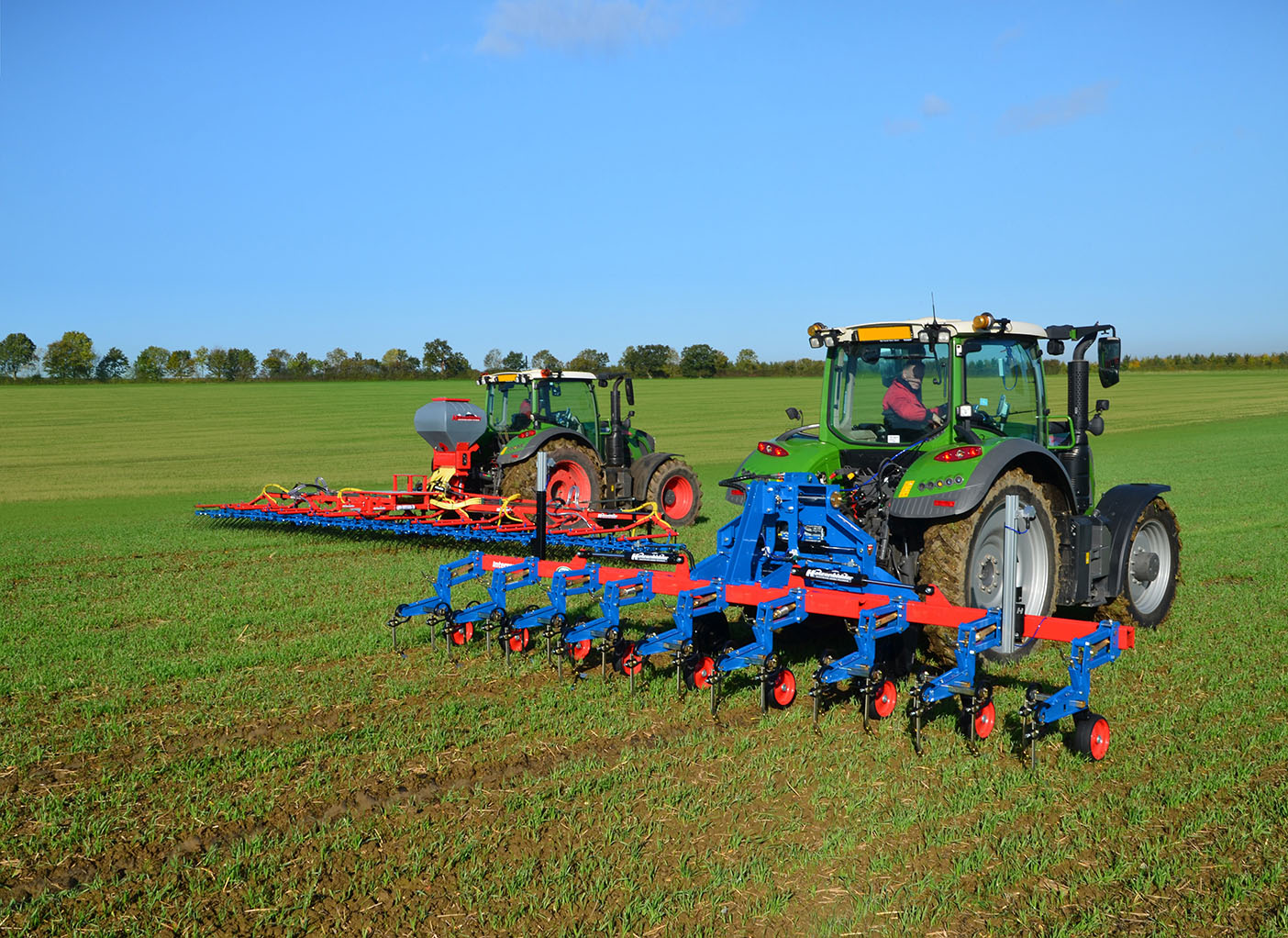 ---
Camera technology
The use of Real Time Kinematic (RTK) positioning increases output by improving accuracy of row following, while camera systems ensure that the cultivator is in the right place, allowing higher forward speeds without the risk of accidental crop damage.
British farmer Philip Garford developed a band spraying and hoeing system in the 1970s and went on to manufacture the system commercially. In 1993 Garford Farm Machinery made its first 'modern era' hoe, and as herbicides for crops such as onions, carrots and parsnips became restricted over the next few years, saw demand grow for mechanical weed control.
Meanwhile at Silsoe Research Institute engineers Nick Tillett and Tony Hague were looking for partners for a project on steering hoes with cameras. The first guided hoe was produced in conjunction with Garford in 2000, and the partnership went on to develop the camera-guided multi-section hoes seen today, plus 'in-row' weeders working between plants along the row.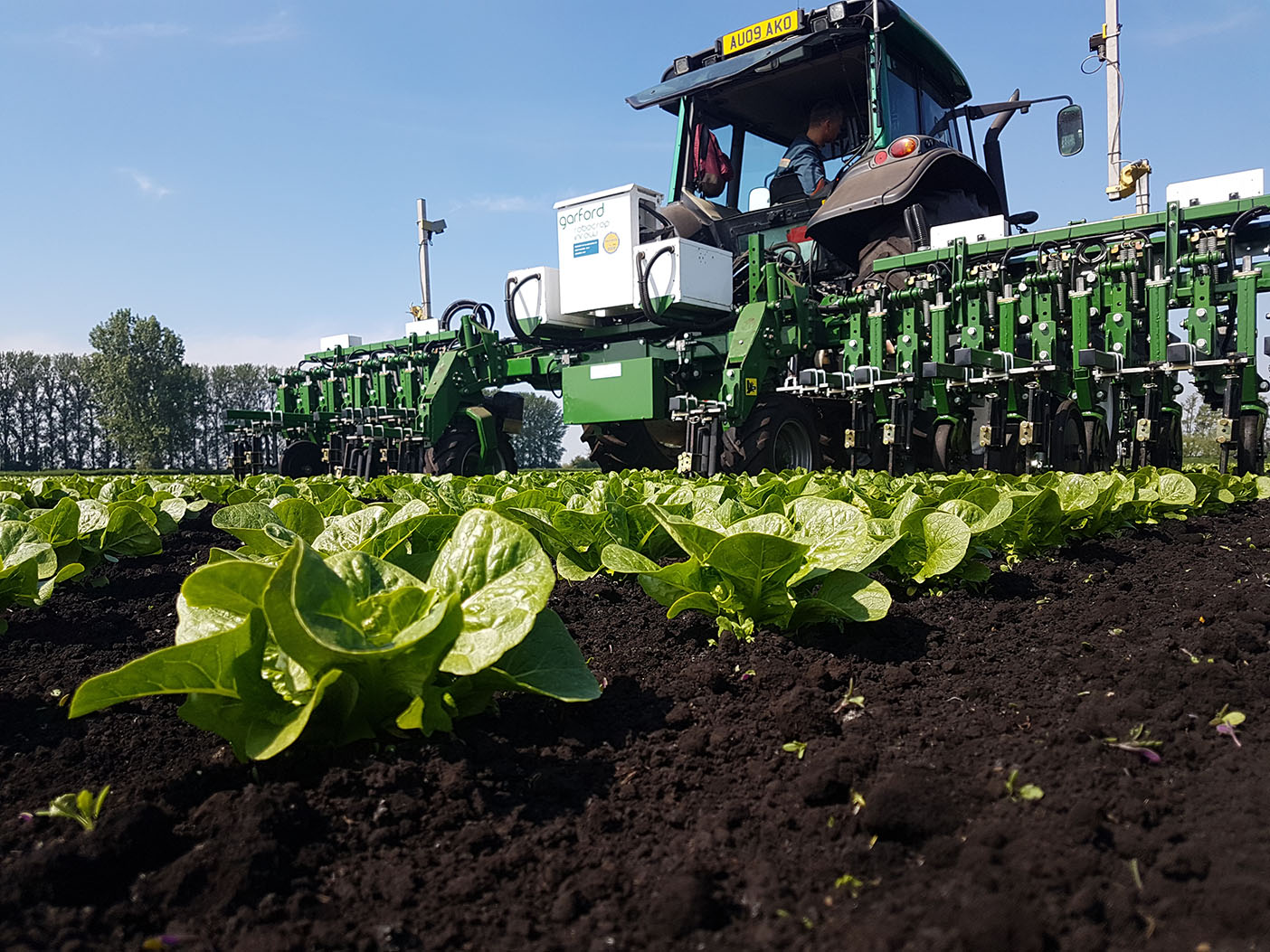 Mr Garford suggests that there has been more interest for hoeing cereals and row crops in recent years, but concedes that it is a slower process overall, and that most converts have specific reasons for using hoes.
"The main market is still organic growers, although there is also interest where other factors restrict chemical use. There may not be a suitable herbicide for that crop, or it may be affected by rules on application, such as in France where spraying near watercourses is restricted."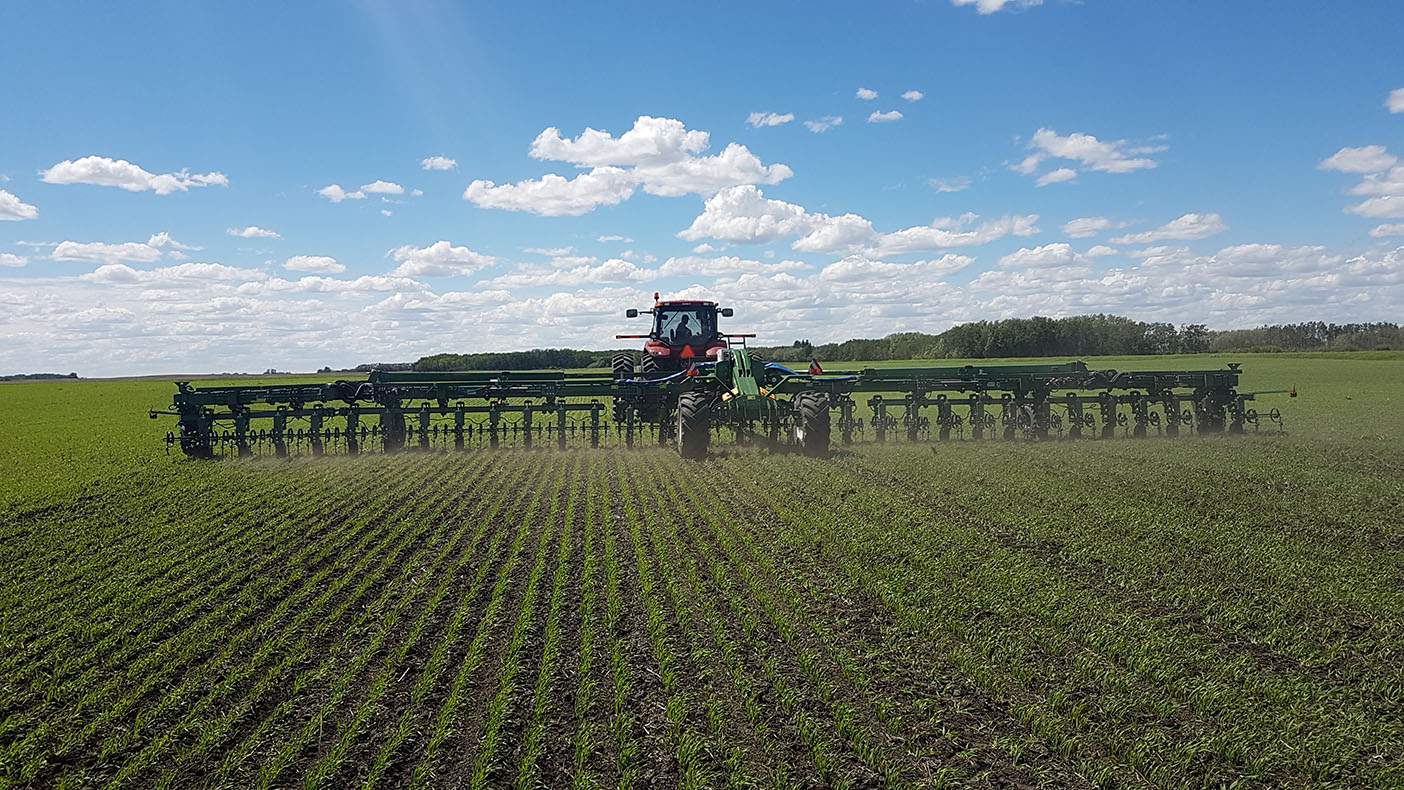 ---
Mechanical weeders
French tillage specialist Carré has been manufacturing mechanical weeders for 75 years, and point to the holistic benefits of the technique:
"Mechanical weeding contributes to soil levelling and to removal of crusts, giving a better surface structure which allows aeration and warming of the soil and conservation of both dew and soil water, minimising evapo-transpiration and run-off," explains Thierry Evelin. "The goal is to favour mineralisation by improved microbial activity, making nitrogen and water more available to crops."
Carré offers weeding solutions for a wide range of crops, including a version of the Econet which combines camera guidance and row spacings down to 160mm, an 'A' share removing weed or volunteer growth between the rows and a following comb harrow loosening the soil and preventing regrowth.
Contractor Troy Stuart purchased a 6m Carré Econet for this season, primarily to increase crop productivity for an organic cereal grower in Devon, England.
"Weeds were previously controlled only by the rotation, but we have hoed 100ha and the results have been impressive. We grow the crops at 25cm spacing rather than 12.5cm to accommodate the weeder; camera guidance is an essential aid to stay between the rows."
Mr Stuart suggests that matching up with the drill width is also key to success even with GPS on the tractor; while the operation obviously has some impact on the crop canopy, he notes that within 10 days it goes away well, due to the benefit of moving the soil.
"We reckon to cover 30-35ha/day in hilly fields that are no more than 4ha and from this year's results plan to hoe more land in 2021, including some conventional maize crops."
Philip Garford comments that while speed of operation could be a limiting factor in the adoption of mechanical weeding even with camera guidance, autonomous technology could overcome this.
Weeding Robots
Danish manufacturer Farmdroid has weeding robots working in six European countries, powered by large solar panels with back-up batteries, and suggests that the robot offers a viable alternative to spraying in non-organic sugar beet.
Rene Jorgensen told delegates to a recent webinar organised by Agritechnica host the DLG: "The robots could be left in the chosen field for the full season within a security geofence, working 24 hours a day at a speed of 450-950 metres/hour providing inter and intra-row weeding. They are suitable for fields of up to 20ha."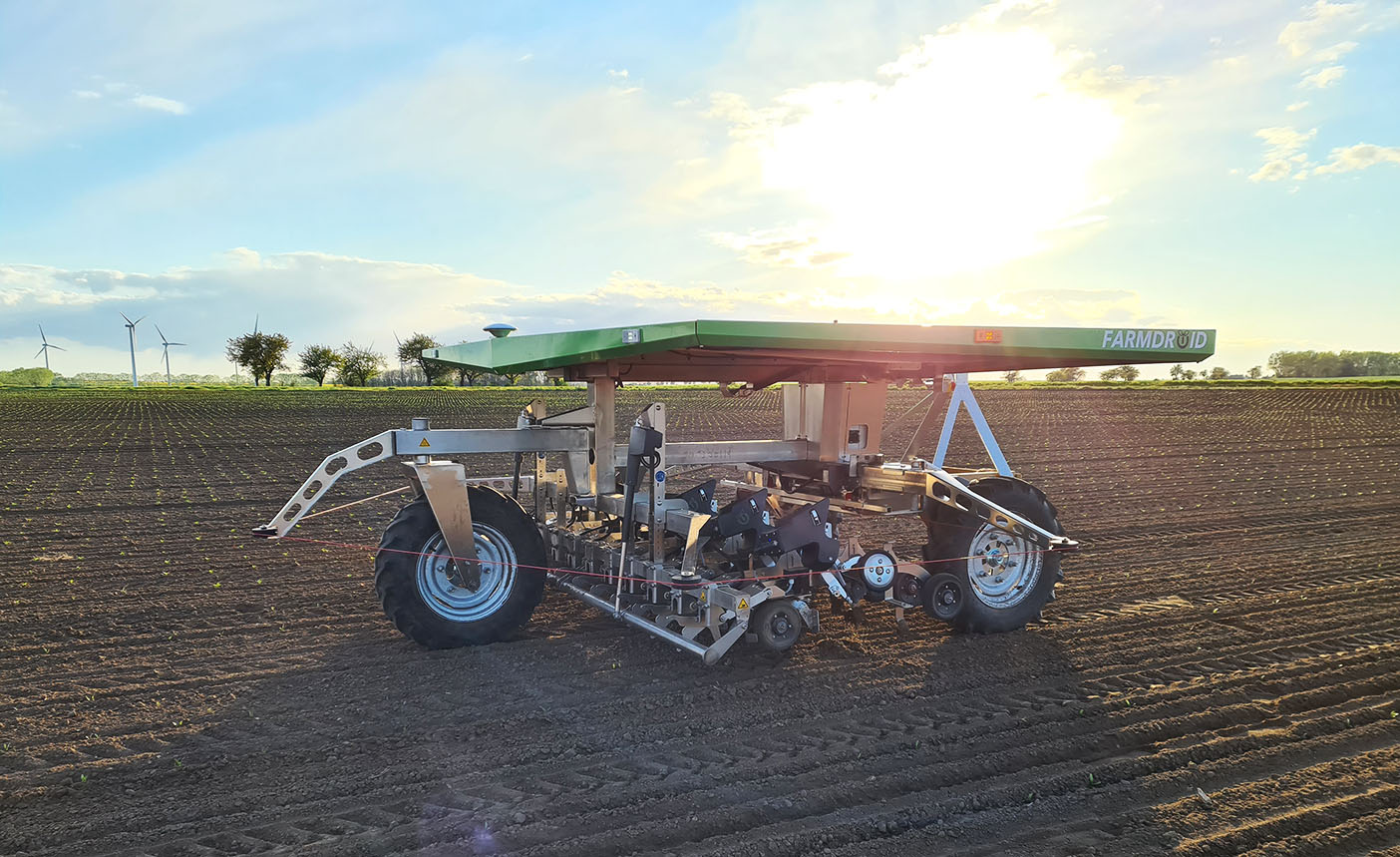 Also designed for seeding, the robots can work six rows at a time, with eight or more rows in the pipeline. Working to a pre-determined seeding pattern, they can also offer pre-emergence weeding with accuracy of 1mm.
"Farms say they are ready to adopt the technology, either leaving the robot in the field or moving it around on a trailer," comments Mr Jorgensen. "The FD20 robot is designed to be durable enough to cope with even no till conditions".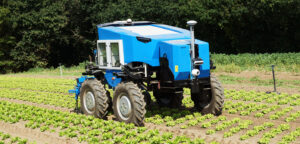 Carré is field testing Anatis, a connected 'co-bot' which not only carries out autonomous weeding but also acquires and processes data on key indicators of crop progress and health, issuing a plot report which can be downloaded via a smartphone or tablet. Aimed at high value crops, Anatis is designed to assist with management as well as performing field operations.