For the past four years, nine-year-old Aesha from the tiny village of Choppadandi in Telangana's Karimnagar district would wake up and watch her father as he untied the rope from his foot that would remind him to go to the fields to turn on the pump. She'd stand by the door and watch him as he strode out to the fields and she'd beg him:
"Yesterday you promised that you wouldn't go to the field at night. I'm scared to sleep alone without you… Mom and I are worried about the snakes out there!"
And he'd tell her he couldn't leave the pump. He had to be there to turn it on; he also had to be there to turn it off before it swamped the fields or worse, burned out. requiring costly repairs. A flood could also sweep away their fertile soil, leaving them with no food.
Small wonder that the Indian research institute the Centre for the Study of Developing Societies (CSDS) found that 62 per cent of its interviewed farmers said they'd quit farming for a job in the city. Their top four problems were flood, drought, productivity and irrigation.
A smart autonomous irrigation solution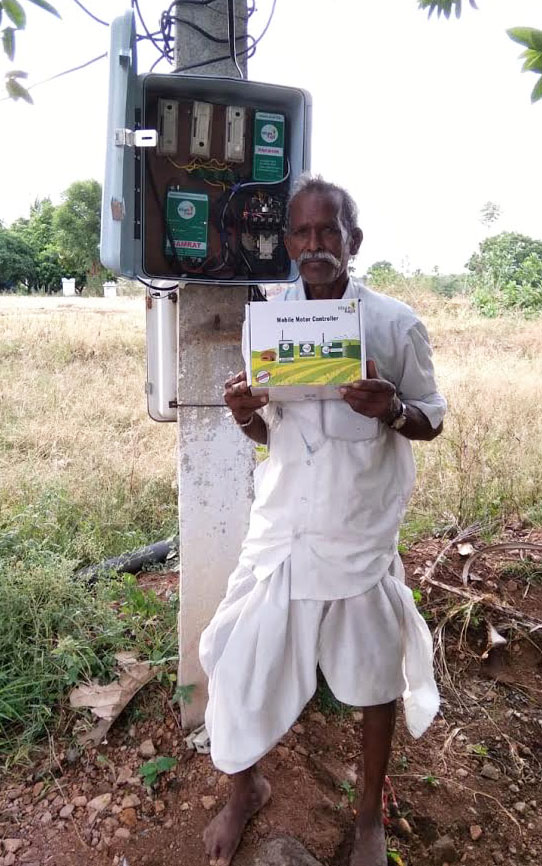 One day last week, Aesha's parents told her they had a surprise for her. Her father took out his mobile phone from the pocket of his dhoti and told her:
"Here's your uncle. Dial that number and speak to him."
She dialed and heard the chatbot say:
"Thank you for calling KisanRaja'as number. Currently your motor's running. If you wish to turn it off, dial 1."
She pressed 1. The tap sputtered shut.
The chatbot told here:
"If you wish to turn on the water again, press 2."
Aesha did so. The pump gushed water.
Aesha hugged her father and reminded him – he was now free to help her with her schoolwork!
Vijay Bhaskar Reddyvijay, the inventor of the KisanRaja system, is a 43-year-old Andhra Pradesh based software engineer who grew up on just such a farm in the area. He studied and worked in both India and the US, then returned to help his brother, an agricultural farmer, to solve his irrigation problems, Vijay has helped more than 34,000 farmers to monitor their pumps since the KisanRaja's invention in 2011, more recently founding AgWiq with his wife to further promote this handy piece of kit.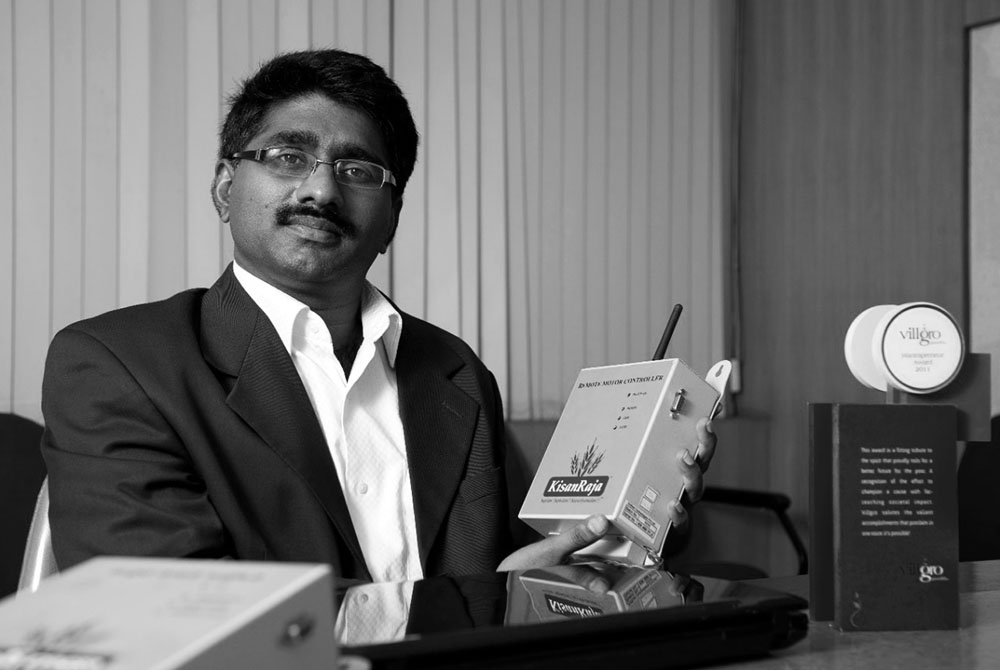 By tapping into the Internet of Things (IoT) the KisanRaja system is fitted with a sim card enabling constant communication (and de/activation) by SMS or Interactive Voice Response Service (IVRS). Additional sensors can be fitted to monitor moisture levels in the soil, saving unnecessary journeys to check up on irrigation needs and also avoiding crop damage from dry spells. Weather forecasting data can also help to predict upcoming rainfall which can save on pumping water from wells at all, good for both equipment longevity, energy bills AND water saving – all vital in India.
The device, which starts from 6000 Rupees / $84.00, also comes with alerts for a faulty power supply, low water levels (which risks pump burn out), and attempted theft. Some versions add an inbuilt timer that turns the pump on and off, automatically.
Over the next five years, Vijay plans to supply another two million farmers with his device, as well as innovate other high-tech solutions.