Was the cup of coffee you drank this morning sourced in a responsible and sustainable way? For an ever increasing number of consumers such matters are of increasing importance as they take steps to limit their impact on the environment. Cheaper methods of coffee farming which make use of pesticides and artificial fertilisers are not necessarily sustainable in the long term for either the environment or the health and wealth of the farmer, or his or her local community. Consumers who want organic sustainable coffee have to trust in the product information on offer at the time of purchase when making their buying decisions.
Traceability however, especially in the case of coffee beans, has not been easy to monitor with a high degree of accuracy in the past – between the small coffee farmer in Nicaragua and your local high street latte vendor, there are co-operatives, exporters, importers, shipping firms, traders, roasters and manufacturers. Its large, global supply chain makes tracing coffee difficult. Coffee bean origin data is often lost completely or fragmented.
New Traceability App Announced at CES 2020: 'Thank My Farmer'
At the 2020 Consumer Electronics Show (CES) in Las Vegas this week, Farmer Connect and IBM will be demonstrating their new consumer mobile application called 'Thank My Farmer' which goes some way to addressing the traceability problems. The brand new app (which utilises the power of digital identity and IBM Blockchain), will allow coffee drinkers to trace their coffee back to source so that they can understand its quality and even support the farmer who grew the beans. Thank My Farmer connects the coffee drinker to farmers, traders, roasters and brands.
The information is presented on an interactive map, allowing each product to tell a story in a simple and scalable way. Thank My Farmer also presents sustainability projects in coffee communities and an opportunity for consumers to support them by making a contribution to the farmer or their local community:
"The aim is humanizing each coffee drinker's relationship with their daily cup," said David Behrends, Founder and President of Farmer Connect. "Consumers now can play an active role in sustainability governance by supporting coffee farmers in developing nations. Through the blockchain and this consumer app, we're creating a virtuous cycle."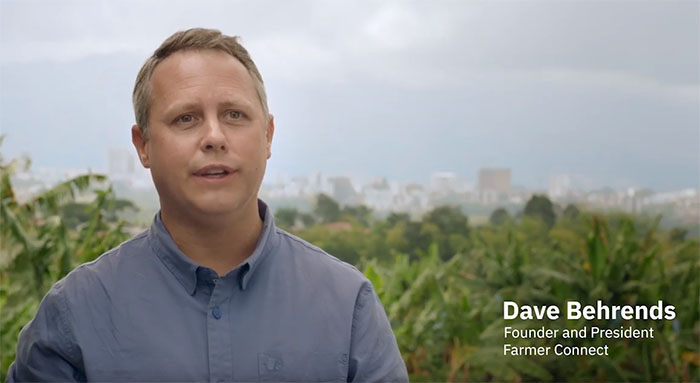 The new mobile application will launch to the general market at the beginning of 2020. Users in the U.S. and Canada will be able to scan QR codes on 1850® brand premium single-origin coffee. European consumers will be able to access the "Thank My Farmer" app through a new single-origin brand, Beyers 1769, roasted at Beyers Koffie. Beyers offers a wide range of coffee products: beans, roast and ground, pads, and a large variety of capsules produced in 2 sites in Belgium and Italy.
How does IBM blockchain technology work?
Blockchain technology brings all the parties in the coffee supply chain together, simplifying the exchange and tracking of information and payments, and enabling greater trust. It creates a permanent digitized chain of transactions that cannot be altered. Each network participant has an exact copy of the data, and changes to the blockchain are shared throughout the network based on each participant's level of permission. Farmers, wholesalers, traders and retailers can interact more efficiently using comprehensive, near real-time access to this data, and consumers can have new insights about the origins of the products they consume.
"This project is another example of how blockchain technology can enable a channel for real change," said Raj Rao, General Manager, IBM Food Trust. "Blockchain is more than aspirational business tech, it is used today to transform how people can build trust in the goods they consume. For business, it can drive greater transparency and efficiency."
For more information on Farmer Connect and the "Thank My Farmer" app visit ibm.com/food. You can see it in action during CES by visiting the IBM Booth, LVCC Central #14028, or by watching this video: