John Deere has updated its entire header lineup for combines to include new HDR rigid cutterbar drapers, RDF HydraFlex drapers, CR and CF corn heads and a BP15 belt pickup. Each is compatible with John Deere X Series and most S Series and T Series combines, to help achieve maximum harvesting capacity while minimizing grain loss under a wide range of crops and conditions.
Each of the new drapers, corn heads and the belt pickup come with a header control unit (HCU) that communicates seamlessly with the combine. The HCU saves head-specific factory calibration settings and collects and sends header-width information to the combine for accurate yield mapping. It also detects and reports header-specific diagnostic codes, plus tracks hours of use and maintenance intervals.
---
Rigid drapers
John Deere HDR rigid cutterbar drapers are ideal for small grains, oilseed or soybean growers who want to maximize their combine's acres per hour across various crops, changing conditions and uneven or rolling terrain while capturing more grain.
"The HDR has a new hinged frame that provides unmatched terrain-following capability with twice the wing range as a MacDon FD1 FlexDraper with uniform cut height when harvesting on curves or uneven terrain," said Matt Badding, harvesting product manager for John Deere.
An HDR draper will help unlock more of the combine's harvesting capacity and capture more grain from the field, especially when harvesting down or lodged crops, according to Badding.
"These easy-to-use drapers effectively pick up and sweep the down or lodged crop across the cutterbar to recover more crop thanks to a consistent distance between the reel fingers and cutterbar, improved reel range and increased reel-drive motor torque," he said.
"HDR drapers can be ordered with optional John Deere grain saver draper belts. These belts can save farmers up to US$1,240 per year across 1,500 acres by reducing canola cutterbar loss up to 25% when compared with traditional, smooth draper belts."
HDR drapers are available in cutting widths from 35 to 50ft to bring more crop into the combine with each pass, increasing the number of acres harvested per hour and per day.
"Farmers can upgrade from our 45ft-wide draper to the new 50ft-wide draper and can harvest up to 33 acres more per day," noted Badding.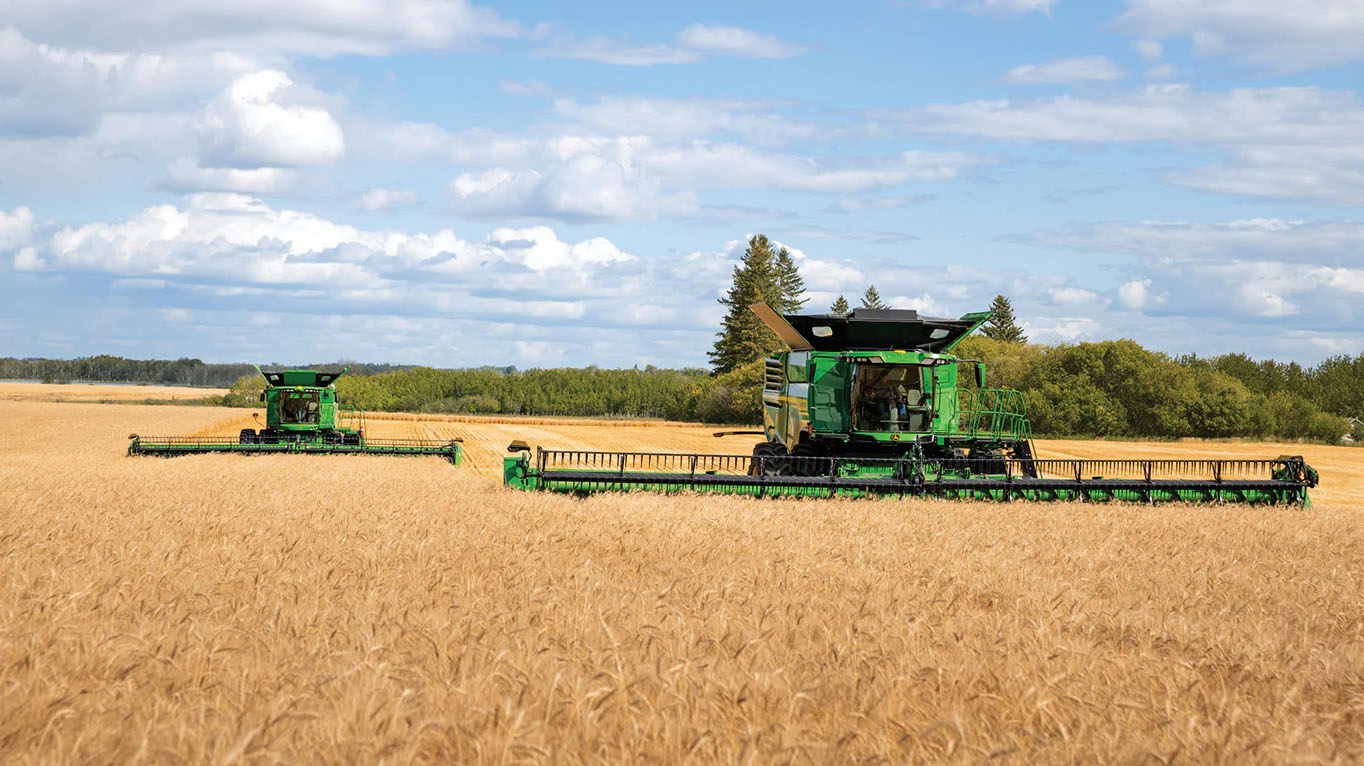 ---
Flexible drapers
John Deere RDF HydraFlex drapers are built on the field-proven cutting technology of the existing John Deere 700FD while providing new features to reduce grain loss. These new drapers are compatible with new X Series, S Series and T Series combines dating back to model year 2012.
All RDF HydraFlex Drapers feature a new two-speed centre feed section that lets operators slow down the feed drum and centre feed belt by 20% compared with the 700FD. "This puts more grain in the tank by reducing free grain loss," explained Badding. "Operators can easily go from low to high speed to save easy shelling crops such as soybeans. RDF HydraFlex drapers reduce grain loss and let operators harvest at faster speeds without sacrificing cut quality."
These drapers carry over the field-proven John Deere 4in double-cut, dual-drive shaft HydraFlex cutterbar. The knife system makes 1,980 cuts per minute to enable faster harvesting speeds. Two centre feed belt options are available as standard equipment to optimize the RDF HydraFlex draper for multiple crops and conditions. The standard belt minimises pod tossing in easy-shelling crops such as soybeans. An optional cleated centre belt is available to feed higher-volume crops like canola into the feed drum.
---
Rigid and folding corn heads
John Deere CR rigid corn heads help farmers who use X Series, S Series and T Series combines to harvest more bushels per hour in high-yielding corn while minimizing grain loss and damage. "These heads feature a 19in cross auger and rolled auger floor to help improve grain handling," said Badding. "The higher torque of the large auger ensures the corn head is not the limiting factor so farmers can realize the true bushels-per-hour potential of the combine. The space between the auger flighting and rolled auger floor minimize the opportunity for ears to pinch or grind, reducing grain damage during harvest."
For harvesting leaning, down or flat crop, CR rigid corn heads can be equipped from the factory with active end fenders that pull more stalks into the head as the combine moves through the field. Another new feature of these heads is the factory-installed stalk deflectors that press standing corn stalks to the ground and fracture them at the base as the head passes over them. These deflectors reduce tire or track wear caused by standing corn stalks and help preserve the trade-in value of the combine and other equipment moving in and out of fields.
John Deere CF folding corn heads include all the features of CR rigid corn heads but feature a low-profile folding frame. There are 12-, 16- and 18-row CF folding corn heads available for X Series combines; and 12-row heads for S Series combines.
CF folding corn heads can achieve a fold cycle time of less than 60 seconds when the corn head is connected to Deere S700 combines; and approximately 40 seconds with Deere X9 combines. "A John Deere CF folding corn head reduces a farmer's operating costs by eliminating the need to purchase a header trailer to transport between fields," added Badding. "The folding corn head also eliminates the time needed to mount the header to a trailer and then reattach it to the combine at the next field. After harvest, the head requires less storage space in the shed."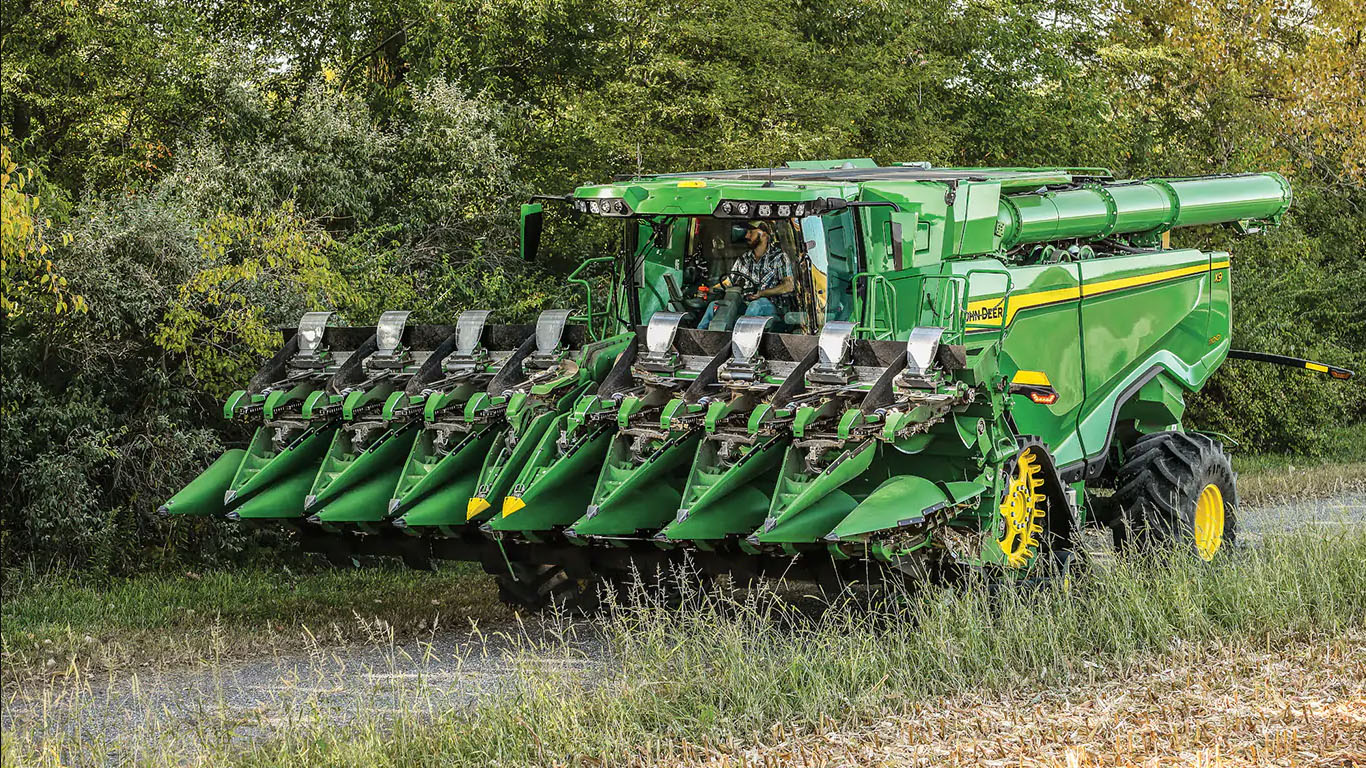 ---
Belt pickup
John Deere is also offering the BP15 belt pickup for small grains and oilseed growers that need to harvest more acres per hour with an X Series, S Series or T Series combine. The BP15 features improved feed rate adjustability to handle large or bulky crops with a standard two-speed auger drive sprocket that delivers a 20% faster feed rate that's ideal for harvesting canola. A slower speed feed rate can be used for less bulky crops like cereals and grass seed. A factory-installed crop shield minimises grain loss by ensuring more crop goes through the feederhouse, preventing it from building up and laying on the feederhouse.
"Operators will spend less time making adjustments and more time harvesting," concluded Badding. "For example, no tools are needed to adjust the height of the large, 20-inch gauge wheels for varying windrow conditions and crop types. These new belt pickups deliver a 20% faster feed rate than the Deere 615P to easily handle high-volume crops in tough conditions. Compared with the 615P, this new pickup has a wider feederhouse opening with adjustable feed auger flighting and tines that allow this belt-pickup platform to harvest more acres per hour. When used with an X9 Combine, a BP15 can handle 30 acres of wheat or 23 acres of canola windrows per hour."
Image source: www.JohnDeere.com