Global agricultural machinery and precision agtech solutions provider AGCO Corporation released its 2020 Sustainability Report this week. It includes a range of goals and commitments, such as its target of a 20% reduction in greenhouse gas emissions across its manufacturing operations by the end of 2026.
With its portfolio including core brands like Challenger®, Fendt®, GSI®, Massey Ferguson® and Valtra®, AGCO's sustainability focus includes:
Soil health and soil-carbon sequestration
Reducing atmospheric greenhouse gas concentration by capturing carbon in agricultural soils is an important AGCO objective. With a pledge to develop new sensors and other technologies to improve soil health, many of AGCO's new products already feature smart farming solutions – helping to optimise soil nutrients, pest control efficacy and manage soil compaction.
AGCO plants to 'pivot' its global agronomy activities during 2021 towards further sustainability trials including cover cropping, lower tillage intensity, herbicide reduction by mechanical weed control, insecticide reduction through cultural and natural methods and variable rate nitrogen fertilization strategies.
Decarbonisation of facilities and products
To reduce its CO² emissions AGCO is targeting a 60 percent use of renewable energy in its internal operations by 2026. This is part of an overall goal of a 20% reduction in operational greenhouse gas intensity by 2026 (from a 2020 baseline).
At AGCO's Fendt sites in Germany several initiatives including generating heat from locally sourced wood chips and power from a photovoltaic system have already been initiated. Sites in Marktoberdorf, Asbach-Bäumenheim, Feucht and Hohenmölsen already run on 100% green electricity.
AGCO also plans to deliver a fully electric Fendt tractor by 2025.
Employee and Animal Health
The sustainability report also sets goals for employee health, safety and well-being which includes a commitment to improve its recordable injury rate year on year. It also addresses animal welfare impacts including the formation of an advisory group of animal welfare experts to help guide the company's efforts.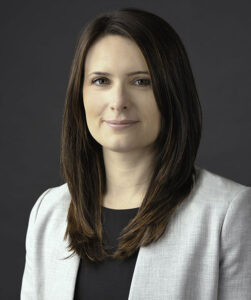 Louisa Parker-Smith as AGCO's Director of Global Sustainability was appointed in October 2020, she said. "AGCO has made significant progress in designing innovative products, creating operational efficiencies, and providing agronomic expertise to farmers.
"With our new, focused approach, we are committed to building on these strengths to create even more value for farmers while committing to help and protect our environment."
Eric Hansotia, AGCO's Chairman, President and CEO added "AGCO's new vision and purpose reinforce our commitment to rapid innovation and the evolution of precision agriculture solutions to help farmers produce more with less environmental impact.
"The agriculture industry has the opportunity – and responsibility – to think big and act bigger. Our new sustainability strategy will be the launch pad for focused creativity and innovation in the years to come."
The full AGCO 2020 sustainability report can be downloaded at https://ar2020.agcocorp.com/sustainability/